Saturday I drove back down to SD to host Red Circle along with Rob Zoomy (DV8). We had the place packed by 11PM, but its not that big of a spot to start with. But everyone came through to celebrate Jenny Ly aka Ms. China, Razo (Victory Nightlife), and Allen Reyes aka DJ Rage's birthdays.
Before the rush of party goers came, Rob and I snuck over to THIN/ONYX were they had catered sushi from 9-10PM. Holla at your free sushi! I was starving!
Welcome to Red Circle...
Julz (Mindz Alike) held it down for the first part of the night!
We got our own VIP section with 2 bottles of Ciroc Vodka. Talk about multitasking... Here I am pulling the signature move on Karen while collecting money from the friends. HAHA
Crackin'! We were at least 40 deep...
Chachy x Karen x Sheryl x TK
Vanessa x Theresa x Josephine x Jenny (Birthday Girl) x April
Even Dwen and Mike came out too!
Orange County in the house! Densen x Angelo x Chach
Scotty x Jenn x Terry stopped by too after coming from the 5&A Dime Mustache Party.
Ride or Die.
The ladies love the mustache... HAHA
Gettin' down on the dance floor with Ashley. Not sure what kind of dance move that is... HAHA
Lovelyn (CSSD) x TK
Tricksters: Cindy x TK... We're both Vietnamese but you probably wouldn't have guessed.
TK x April aka BFF's GF
TAA: Tall Ass Asians
Everyone loves Zoomy!
Rage (Birthday Boy) x Ashley Robles
Jomo snapped the perfect picture of my reaction after looking at the bill... DAMN! Thanks to the friends that helped pitch in. HAHA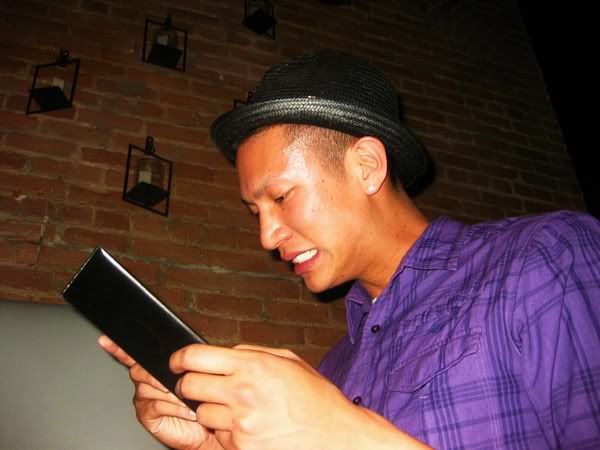 F it! Drink your sadness away! HAHA
"
Why are you sucking on the bottle you dirty mother f*cker!?!?
" - TK
Freddy ended up riding home with me, but before we headed back to PQ we killed 1/2 a bottle of vodka that Zoomy still had. Then made our way over to Thin/Onyx for another round of drinks... HAHA.
We were going to meet up with everyone else at Santana's but I wasn't in any condition to drive so we just got Mexican food in Downtown and headed to Bumsville.
I got a hilarious video of Freddy slowly melting away into a deep slumber while waiting for our food.
Back at Bumsville. We were going to spend the night but Freddy said he would keep me awake if I drove home....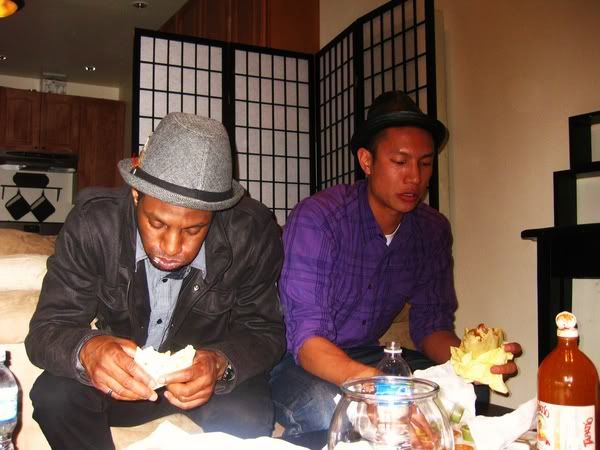 Thanks Fred! This fool knocked out right when we got into the car while still holding half of his uneaten burrito.
Thanks to everyone that came out! Happy birthday to Jenny, Razo, and Allen! We'll be back at Red Circle this Saturday so come through!